Sewing friends with Gabriele
Tuesday 18 January 2022: Gabriele and Julie are sewing friends from the SewOver50 community.
Gabriele reached out to Julie though a DM. She helped Julie become more comfortable with general Instagram functionality like stories and chatting.
In part 1, you'll hear how their sewing friendship has grown and grown.
Thursday 3 December 2020: Julie Yost or @consistentlydifferentdesigns is today's Sewover50 guest. You'll also know Julie for managing #waiwot for Sewover50.
Julie is a local at Rochester, MN USA where we are beginning our winter season
Julie is so fortunate to have learned at the feet of her mother and grandmothers. One of her earliest sewing memories was when she was about 4 years old and her grandmother was sewing her Aunt's wedding dress and the bridesmaid dresses – pink satin dresses with red velvet capes for a winter wedding. Her grandmother made a replica bridesmaid dress for Julie's Barbie doll!!
Julie's mom made many of their clothes when she was growing up. Julie was officially allowed to use the sewing machine when she turned 10 and from then Julie went on to enter garments in the county fair, made her own clothes, made special occasion dresses for her 2 sisters and eventually made her own wedding dress and the 4 bridesmaid dresses.
Julie says 'I can also remember gong to the fabric stores with my mom and running our hands over the bolts and fondling the fabric between our fingers. (At first I wasn't even sure why we did it!?!) By the time I was starting high school, I thought the people who worked in the fabric stores had the best job EVER!'
Julie's first 'adult' job (after getting married and moving to a new part of the state) was as a sewing machine consultant /salesperson. Julie had a few life lessons that came from the 5 years she spent there, including using my detective skills (? ha, ha) to recover a stolen sewing machine (a Singer Featherweight model #221) and then working with the police to catch the thief. You'll hear this story from Julie in her Sewover50 podcast.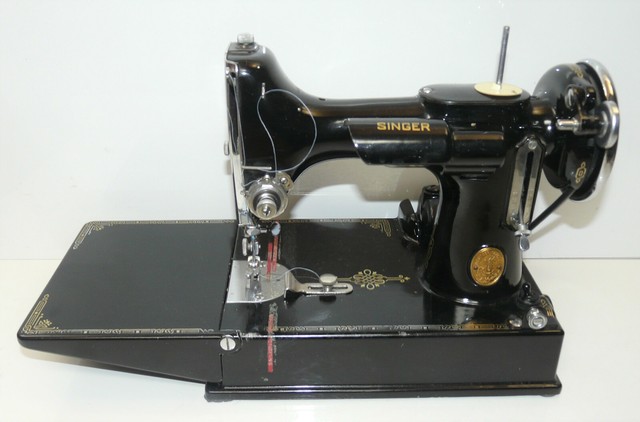 How has Sewover50 made an impact on you: Julie said: 'I had no idea what Instagram was until my daughter made me "sign up" in April of 2019. I hadn't had "sewing friends" in almost 35 years so it was an AMAZING experience to join such a positive, supportive and encouraging community. I was shocked that it existed!! And since I had just retired (from something totally NOT sewing-related), the virtual companionship was exactly what I needed! It gave me so much motivation and inspiration!! But I wouldn't have even been able to participate if Sandy and Judith hadn't offered IG tips and instructions! They didn't just offer sewing support; they were my technical support too!! '
Two most shocking realizations about the Sewover50 community:
1. there are thousands and thousands of sewists from around the world who are willing to offer ideas and encouragement!! and
2. when I receive replies or specific help from @sewover50 (aka Judith and Sandy), it feels like I am the only person they have to talk to today, yet I am one of their over 24,000 members!?!? How is that possible?!? How can they have the patience and kindness to speak to everyone and make that person feel like they are a close, personal friend? It's unbelievable!! I think the reason SewOver50 is so successful is because of their special kindness!
#waiwot: "As a way of giving back to the community, and potentially focusing on progress vs. production / completion, I started the #waiwot hashtag. It's a way for people to share their creative journey, not just their final destination. It's good for "slow sewists" who still want to post to IG but may not finish a project for weeks or months. And it's a great way to share tips (or lessons learned or mistakes) as they're happening. I find I learn more from an in-process picture than I do from just looking at the final garment. Believe me, I STILL want to see the final garment!!! But I enjoy seeing behind the scenes and joining the maker on their journey. Because I enjoy it, I thought others would too, so I post a Weekly #waiwot Roundup each Friday in my stories where I feature people who have used the hashtag that week.'